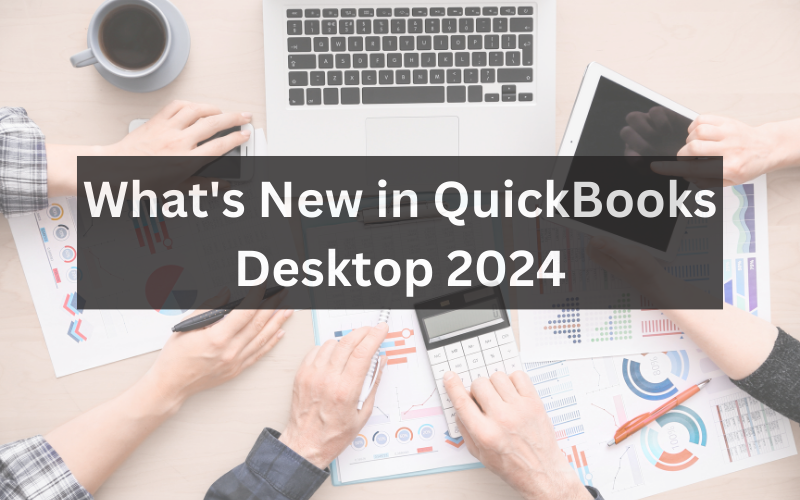 Every year, QuickBooks rolls out new features for its leading accounting software, QuickBooks Desktop. With the 2024 update, users can anticipate a range of enhancements tailored to streamline processes, increase efficiency, and improve the overall user experience. Let's dive deep and explore the latest offerings of QuickBooks Desktop 2024.
1. Enhanced Customization and Reporting
This year, the customization features of QuickBooks have been taken to a new level. Users can now more easily generate tailored reports using an intuitive interface. The filters and custom fields have been enriched, making pulling out specific data points from large datasets easier and faster. Not just that, users can also customize their dashboard to prioritize the most vital pieces of information.
2. Integrated Cloud Backup
Data security and protection is a prime concern for businesses. Recognizing this, QuickBooks Desktop 2024 now offers an integrated cloud backup solution. This ensures that all your data gets automatically backed up to the cloud, eliminating the need for manual backups. Data recovery has become more straightforward, which can be a lifesaver in technical glitches or accidental data deletion.
3. Advanced Bank Feeds
Bank reconciliations have been made more straightforward with the advanced bank feeds in QuickBooks Desktop 2024. The software now comes with improved algorithms that smartly categorize and match transactions, reducing the time accountants spend on manual reviews. Automatic categorization also reduces the chances of human errors.
4. Collaboration and Multi-User Improvements
Collaboration is key in today's work environment. QuickBooks Desktop 2024 has significantly improved its multi-user mode. Now, tasks like invoice generation, payment processing, and report generation can be done simultaneously by different users without any hitches. This multi-user enhancement boosts productivity, especially in larger teams.
5. Streamlined Invoicing Process
Invoicing is central to any business. With the 2024 edition, users will notice a more seamless invoicing process. Features like recurring invoices, batch invoicing, and the integration of payment links directly in the invoice mails are expected to enhance cash flow and reduce the accounts receivable cycles.
6. Improved Inventory Management
The enhanced inventory management feature will be a boon for businesses managing a significant inventory. QuickBooks Desktop 2024 provides detailed insights, allowing users to accurately forecast inventory needs. The added batch editing feature streamlines inventory updates, and the integration with mobile barcode scanning can drastically reduce manual data entry errors.
7. Mobile App Synchronization
While QuickBooks has always had a mobile counterpart, the 2024 version takes synchronization between the desktop and mobile app to a new level. Real-time synchronization ensures that changes made on one platform reflect instantly on the other. This feature is particularly beneficial for business owners and accountants on the move.
8. Enhanced Payment Features
QuickBooks Desktop 2024 has integrated more payment gateways, giving businesses various payment processing options. Plus, the software now offers a consolidated view of all transactions, irrespective of the payment method, simplifying the reconciliation process.
9. Focus on Security
Cybersecurity threats are ever-evolving, and QuickBooks 2024 has responded with beefed-up security features. Multi-factor authentication, advanced encryption protocols, and routine security audits ensure that user data remains safe and inaccessible to unauthorized entities.
10. Interactive Tutorials and Help Features
Last, the 2024 version has an expanded library of tutorials, video guides, and in-app help features. These resources are designed to help new and experienced users harness the software's full potential.