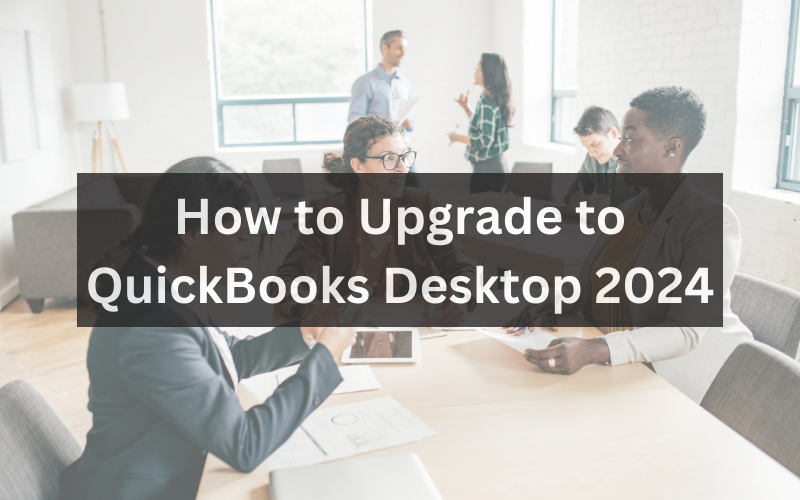 Staying up-to-date with the latest software versions is essential for any business. QuickBooks Desktop 2024 offers many new features and improvements to help streamline your accounting management processes. Suppose you're using an older version of QuickBooks Desktop and considering upgrading to QuickBooks Desktop. This guide will walk you through the steps to ensure a smooth and successful transition.
Why Upgrade to QuickBooks Desktop 2024?
QuickBooks has several compelling reasons to upgrade, including enhanced features, improved security, and better performance. Here are some key benefits of making the switch:
Enhanced Reporting:

QuickBooks 2024 introduces more robust reporting options, allowing you to gain deeper insights into your business's accounting health.

Improved User Experience:

The user interface has been refined for greater usability and efficiency, making navigating the software easier for you and your team.

Enhanced Security:

The latest version includes updated security features to help protect your accounting data from potential threats and cyberattacks.

Streamlined Performance:

QuickBooks Desktop Pro 2024 is optimized for better speed and performance, even with large datasets.

Compatibility:

As technology evolves, older software versions may become less compatible with newer operating systems and hardware. Upgrading ensures that you stay compatible with the latest technology.
Now, let's dive into the steps to upgrade to QuickBooks Desktop 2024.
Step 1: Prepare for the Upgrade
Before you begin the upgrade process, take some time to prepare. Here's what you should do:
Backup Your Data:

Create a backup of your QuickBooks company file(s). This ensures your data is safe if anything goes wrong during the upgrade.

Check System Requirements:

Verify that your computer meets the system requirements for QB Desktop 2024. These requirements can change with each version, so it's crucial to ensure compatibility.

Review Third-Party Integrations:

If you use any third-party applications or plugins with QuickBooks, check their compatibility with the new version. Some plugins may require updates to work correctly with QuickBooks.
Step 2: Acquire QuickBooks Desktop 2024
To upgrade to QuickBooks, you'll need the installation file. You can obtain this in a few different ways:
Purchase a New License: If you're not a QuickBooks subscriber, you can purchase a new license for QuickBooks Desktop 2024 directly from Intuit's website or authorized resellers.
Upgrade Your Subscription:

If you're already a QuickBooks subscriber, you may be eligible for a free or discounted upgrade. Check with Intuit or your reseller for upgrade options.
Step 3: Install QuickBooks Desktop 2024
Once you have the installation file, follow these steps to install QuickBooks Desktop 2024:
Close Older Versions:

Close all open QuickBooks Desktop files and any older versions of QuickBooks before starting the installation.

Run the Installation File:

Double-click on the QB Desktop 2024 installation file you downloaded or received.

Follow Installation Prompts:

Follow the on-screen instructions to complete the installation process. You may need to enter your product key during this step.

Choose Installation Type:

Select the type that best suits your needs (e.g., Express or Custom).

Activate QuickBooks:

After the installation, you'll be prompted to activate QuickBooks 2024 Desktop. Follow the activation process using your product key.
Step 4: Upgrade Your Company File
With QuickBooks Desktop installed, you'll need to upgrade your existing company file to the new version. Here's how to do it:
Open QuickBooks 2024:

Launch the new version of QuickBooks Desktop.

Open Your Company File:

Go to the "File" menu and select "Open or Restore Company."

Choose Upgrade:

Select "Open a company file," then click "Next."

Locate Your Company File:

Browse to the location of your company file and select it. Click "Open."

Backup Company File:

QuickBooks will prompt you to create a company file backup before upgrading. This is an additional safety measure to ensure your data is protected.

Upgrade Complete:

You can use your company file with QuickBooks Desktop 2024 once the upgrade is complete.
Step 5: Verify and Update Settings
Review your settings and preferences after upgrading your company file to ensure they're still accurate. Check the following:
Preferences:

Review your preferences and settings to ensure they are set up correctly.

User Access:

If you have multiple users, review and update their access levels and permissions as needed.

Chart of Accounts:

Verify that your Chart of Accounts and other lists are accurate.

Bank Feeds:

If you use bank feeds, reconnect your bank and credit card accounts to ensure uninterrupted transaction downloads.

Reports and Templates: Update any custom reports, templates, or forms as necessary to work with QuickBooks Desktop 2024.